Bishop Masereka Christian Foundation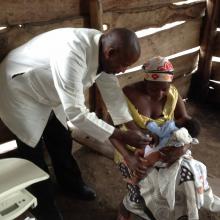 April 24-30 is World Immunization Week. While it is estimated that vaccinations save the lives of 2.5 million children every year, another 1.5 million children die each year from diseases that can be prevented with vaccines. Christian organizations are working to change this and help the global health community reach the 20 percent of children worldwide who miss out on life-saving vaccines.
Sylvia, a mother of three in Kasese, Uganda says she was aware of vaccines to prevent disease, but did not understand their importance or the fact that children need a number of vaccinations throughout the first five years of life. "All I understood was that there are killer diseases we should immunize our children against," explained Sylvia. "I took my first and second child for vaccines for only the first nine months of life. I didn't learn my children would still be at risk of catching diseases if they were not immunized for five full years until an educator from the Bishop Masereka Christian Foundation (BMCF) came to my village."
Reaching parents with information about vaccines and vaccinating children is critical to child survival. Immunization is one of the main drivers behind the tremendous decline in child deaths the world has experienced in recent decades.