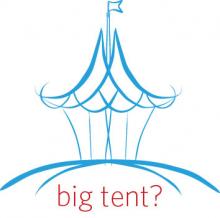 Last May, a family in our church offered the use of their garage and driveway for a weekend yard sale. Their entire suburb holds a three-day sale, and our youth group participated to raise some money.
Rain and heat were in the weekend forecast, so church members offered to let us use their collapsible tents as shelter for the clothing and glassware, bicycles, and bobbleheads that had been donated for sale. You've probably seen such tents. They somehow fit into small carrying pouches — thank God for engineers! — and unfold into spacious tents.
It took six of us to stretch each tent all the way open. Each of us grabbed a leg and started pulling until the metal frame finally snapped into place and locked. The toughest part was getting the frame to expand that last inch or so to make it lock.
By the time we had all of the tents assembled, we were soaked with sweat. Stretching a tent to its limit is hard work!
It's also a popular metaphor these days.