biblical account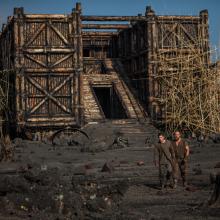 Biblical themes have been used throughout history to share the universal struggle of humanity; temptation, rebellion, coming of age, the degradation of the moral compass, courage in the face of humanity, and of course, faith.
William Shakespeare uses biblical elements in his plays. We witness in his writings themes highlighted in David's narrative, Adam and Eve's story, and Cain and Abel's tragedy. These stories are central to the Western canon. We cannot get away from these themes and stories, for they rest in the consciousness of our culture.
The film Noah, directed by Darren Aronofsky, is a daring, powerful, and imaginative retelling of the Noah story. Aronofsky takes the central elements of the biblical narrative and expands the story, as artists are called to do, to allow the audience to witness, not a historical world, but a metaphorical universe where the choices of humanity disrupt the sacred divine rhythm of creation.