1914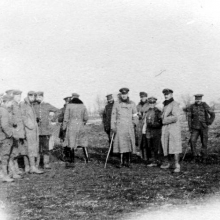 One hundred years ago, during the First World War, the Christmas truce took place between British, German, and French soldiers in the trenches on the Western Front. On Christmas Eve 1914, soldiers from opposing sides, who were stationed there to kill each other, instead got to know one another, shared photos of loved ones, and even had a game of soccer.
This of course made their superiors furious, not just because the troops were disobeying orders, but because it is much harder to harm someone with whom you have formed some sort of relationship. The enemy is to be faceless and nameless.
The same holds true for millions of people living in poverty around the world this Christmas. They are the faceless and nameless ones. In reality though, the enemy that is poverty is not faceless. Poverty is about people; it is not about statistics. Poverty is also not just about a lack of material goods; it is more about a lack of dignity, a lack of a sense that you are important. We are reminded that poverty is always personal because it is about relationship.