youth pastor
As a child growing up in the church, if there was one message I heard over and over again, it was that God was in control, and most importantly, God loved us — and we actually had fun.
This was a comforting message and environment. Furthermore, the themes of joy and God's defeat of evil became even more prominent during my teen years.
But then youth group ended, and I entered the realm of adult Christendom: political causes, doctrinal debates, worship wars, traditional vs. modern bickering, congregational infighting, gossip, church splits, corporate boycotts, moral rage, judgment, and fear.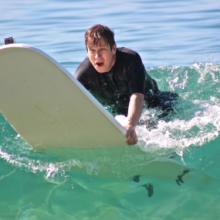 For a period in his younger life, the host of The Pete Holmes Show on TBS, which debuted late last year and follows Conan on late-night TV, was on a trajectory to become a youth pastor.
"That's why I went to Gordon," Holmes said, referring to his alma mater — Gordon College in Massachusetts, an evangelical Christian school — during a conversation on my back porch in Laguna Beach earlier this month.
"I wanted to be a pastor. I was going to be a youth pastor. I mean, I play guitar, I like to make people laugh. … The skill set of pastor and comedian are incredibly similar. You want to affect people. You're good at reading rooms. You're persuasive and you're likable."