year of the protester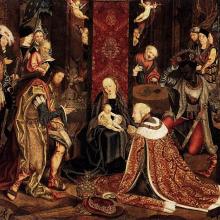 Activist theologian Bill Wylie-Kellermann wrote that the Epiphany season "begins and ends in light. From the heavenly star to the radiant robes of transfiguration, Epiphany is about revelation, the kind of sudden brightness that lights up the landscape of a mind or a community or a whole social order. The light reveals, but not passively; it summons and sends."

In popular understanding, of course, Epiphany is about the visit of the Magi, "wise men" from the East bearing gifts for the newborn Christ child. Since these Gentile visitors come from foreign lands, their search for Jesus and their homage to him have stood as sign and symbol that Christ's salvation knows no boundaries. (The parallels with our age, with the potential of digital media to transcend all boundaries, begin to suggest themselves.)

The story of the Magi has a dark side as well, mostly ignored in Christendom's celebration of Epiphany. On their way to find the babe, the travelers pay a visit first to Herod's court, where they're told to report back to him the location of the newborn. Fortunately, the wise men practice direct civil disobedience to the royal command, and thus they and the holy family escape Herod's wrath. But the children of Bethlehem, the "holy innocents," suffer the tragic consequences of Herod's duplicity. The lessons about relating to authority (i.e., the need to be "wise as serpents") are loud and clear.