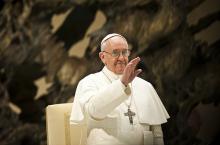 Pope Francis, in his message for the World Day of Peace on Jan. 1, stresses the concept of fraternity as the basis for a moral economy, moral society, and moral relationships among nations. 
A longing for fraternity, the pope argues, lives within every human heart.
In the heart of every man and woman is the desire for a full life, including that irrepressible longing for fraternity which draws us to fellowship with others and enables us to see them not as enemies or rivals, but as brothers and sisters to be accepted and embraced. Fraternity is an essential human quality, for we are relational beings. A lively awareness of our relatedness helps us to look upon and to treat each person as a true sister or brother; without fraternity it is impossible to build a just society and a solid and lasting peace.
Too often, Pope Francis explains, this human desire for fraternity has been undermined by other human inclinations, those of selfishness, envy, and greed. He argues that those inclinations form a poor foundation for human societies and economies, and that we must build a foundation for society and the economy based on the "transcendent dimension" of humanity: