working mothers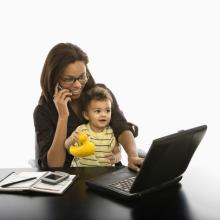 Over the last several weeks, I've been trying to figure out exactly why I feel so bothered by Sheryl Sandberg's book, Lean In.
I suggested to my husband that maybe I'm being defensive since I am an educated woman in a professional field who has very clearly chosen to "lean out" to spend more time at home.
Or maybe it's because I disagree with putting any degree of blame for inequality in the workforce on women.
Or maybe it's because I don't like the idea of human capital.
None of those reasons, however, seem to explain why the book and the phrase "lean in" have become such an obsession for me. I certainly consider myself a huge proponent of equality and women's rights. I have marched, protested, researched, worked toward, and fought for true equality for women all of my adult life.
So my discomfort with Sandberg's book isn't because I'm anti-woman or anti-feminist. It isn't because I disagree with her and want all moms to stay home and bake cookies and volunteer for PTA. It isn't even because I feel the need to defend my choice to be a 99-percent stay-at-home mom. Instead, it's because, as a Christian, I believe that the whole idea of "leaning in" does not take into account the principle of putting others before self. (Phil. 2:3-8). This principle applies equally to both women and men.
(Caveat: neither women nor men should be trapped into subservience by children and/or spouse. I am talking about putting the real, rational, and loving needs presented by being part of a family before one's individual needs.)