to the wonder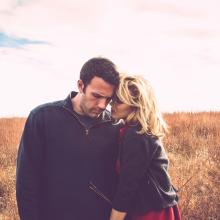 The last Terrence Malick film I went to see was Tree of Life, in which the critically acclaimed director — and devout Christian — advised audiences to "experience [the film] like a walk in the countryside. You'll probably be bored or have other things in mind, but perhaps you will be struck, suddenly, by a feeling, by an act, by a unique portrait of nature." Needless to say, the film was long — extremely beautiful, but a wee bit slow.
So you can imagine the shock I felt when Malick's latest film, To the Wonder, abruptly ended after almost two hours and I thought to myself, "Wait, it's already over?"
To the Wonder is certainly different from its immediate predecessor in Malick's catalogue — there aren't any dinosaurs in his latest effort. But it does still manage to have both the look and feel of a Malick film (i.e., it intersperses a linear story with lots of fluid, beautiful cinematography shot during "magic hour" with voice overs asking deep questions), albeit one that doesn't drift off into long montages of the creation of the universe with voiceovers almost lifted from the book of Job.