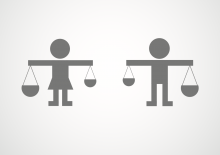 One of the most interesting conversations at the Berkley Center focused on the desire for power in feminist discourse. In some ways, the feminist aspiration for power in terms of fiscal gain only perpetuates the patriarchal emphasis on economic power as the only definition of success. 
One definition of female power that has its roots in Scripture is the power to be seen as equal before God. The concept that God created "man in his own image; male and female he created them" is imperative to feminist theory of shared power between sexes.
If we only define having power as women making capitalistic progress in our markets, we lose important aspects of divine femininity that render both male and female equal in the eyes of God.