women disciples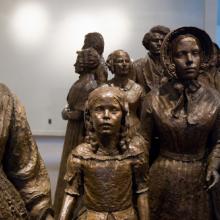 Consider in the past year alone, America has wrestled over the injustice of forced vaginal probe ultrasounds. We have had our own deep cultural apathy revealed as the media tipped their sympathies toward the jocks that ripped a 16 year-old girl's life and body through gang rape in Steubenville, Ohio – even as our nation gasped in horror at multiple reports of gang rapes of women in India. And over the past few weeks we have witnessed the unmasking of several U.S. military leaders, who were charged with duties to protect the women in their ranks, as they were revealed to be the very perpetrators themselves.
In Jim Wallis' latest column, he writes, "It's time for all people of faith to be outraged" and adds, "And it's time for us in the faith community to acknowledge our complicity in a culture that too often not only remains silent, but also can propagate a false theology of power and dominance."
Will we do it? Will we take the step? Will we allow this holy wind that has blown the cover off of evil deeds done in the dark to rush through? Will we allow the cleansing waters of God to wash our society clean of practices — both private and public — that twist, maim and crush the image of God in more than half its population? Will we exercise the same courage that it took for those women at the first Pentecost to allow the spirit to move them into the public square and speak — testify, tell the truth, and prophesy? Will we repent from our silence?
Repentance begins in the heart. So, I must ask: "Will I repent of my silence — my safe silence?" Yes.