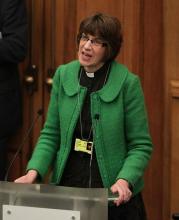 The Church of England's commitment to advance the cause of women took another step forward March 26 with the appointment of Rachel Treweek, 52, as the next Bishop of Gloucester in the southwest region of England.
That makes three women bishops in the space of three months since the church overcame its long-standing opposition to women bishops late last year. On March 25, the church appointed its second woman bishop, Alison White, 58, as suffragan bishop of Hull.
But Thursday's announcement was even more dramatic. Treweek will be the first to run a diocese on her own. She will be one rank below archbishop and will become the first woman bishop to sit in the House of Lords, the British Parliament's Upper House.
Twenty-six "Lords Spiritual" — all Anglican, all male — sit in the House of Lords.
In a statement, Treweek said the appointment was "an immense joy and privilege."