William Hamilton
There was a movement back in the 1960s that many of us only have read about, while others vividly remember. Philosophers and theologians explored what was labeled the "Death of God" movement. Interest in the subject has re-emerged particularly as of late because William Hamilton, one of the more prominent voices in the Death of God movement, diedlast week at age 87.
The movement inspired TIME Magazine's now-famous cover (seen here) in 1966, raising the question in the public forum: Is God Dead? The cover has since been listed by the Los Angeles Times as one of the "Ten Covers that Shook the World."
Hamilton's faith was shaken during his teenage years when three of his friends were making a homemade pipe bomb. The project went wrong and detonated, killing two of the three boys.
The two killed were Christians. The lone survivor, an atheist.
Hamilton's crisis of faith centered around a theological concept known as theodicy, which explores the question: why do bad things happen to good people? More specifically, why does misfortune seem to befall the faithful, while those lacking faith enjoy what seems to be a providential hall pass?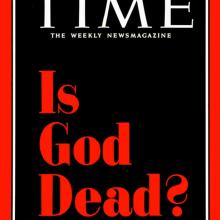 PORTLAND, Ore. — William Hamilton, the retired theologian who declared in the 1960s that God was dead, died Tuesday in his downtown Portland apartment. He was 87.

Hamilton said he'd been haunted by questions about God since he was a teenager. Years later, when his conclusion was published in the April 8, 1966, edition of TIME Magazine, he found himself at the center of a theological storm.

TIME christened the new movement "radical theology," and Hamilton, one of its key figures, received death threats and inspired angry letters to the editor. He lost his endowed chair as a professor of theology at what was then Colgate Rochester Divinity School in 1967.