Wiconi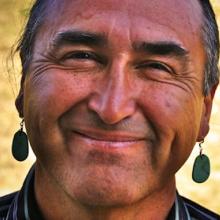 How Native Christians are reclaiming tradition to create an "Indigenous hymnody."
It was one week ago that I received the email I had been dreading. On Feb. 6, 2013, while in Washington, D.C., for the National Prayer Breakfast, Richard Twiss suffered a major heart attack. He remained in a hospital in the D.C. area for several days as friends and family rushed to his side. But on Feb. 9, at the age of 58, Taoyate Obnajin, he Stands with his People, crossed over to meet the Creator. He is survived by his wife Katherine and his four sons Andrew, Philip, Ian, and Daniel.
If you ever had the privilege of meeting Richard Twiss, chances are he invited you somewhere. Richard was an incredible host. I remember last summer I attended a symposium for the North American Institute for Indigenous Theological Studies, of which Richard was a board member. No sooner had I walked through the door when I was greeted by Richard and asked if I would like to join their drum circle up front to start the next session. I felt extremely honored by this invitation and gladly accepted. I am not a trained theologian nor am I a prolific powwow drummer, but this small gesture immediately made me feel at home and communicated that I was welcome there and was given a voice should I have something to contribute.
Richard was involved in many conversations. As a follower of Jesus, president and co-founder of Wi