Why I Am An Atheist Who Believes in God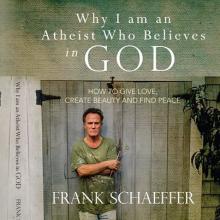 One phrase comes to mind, time and again, when I think of Frank Schaeffer: "THINK AGAIN." Any time I think I have a handle on things theological, he seems to find the thread, hanging from the edges, and gives it a good, solid yank.
Such is the case once again with his newest book, Why I am an Atheist Who Believes in God: How to give love, create beauty and find peace. Just when it seems the delineations between theism and atheism, between believers and nonbelievers, is sufficiently clear, Schaeffer blurs even those lines, leaving us to wonder what it is any of us actually believes and why.
Frank Schaeffer is not one to deconstruct theology (or even the lack thereof) with some kind of sadistic joy, leaving us to sort through the pieces. Rather he explores what I might call trans-theism, offering us practices, a vocabulary, and a worldview that take us far beyond belief toward a deeply human – and yet inexplicably transcendent – experience.
I asked Frank several questions about his new project; here is what he had to say.