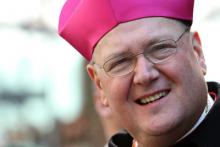 NEW YORK — When Cardinal Timothy Dolan used the morning talk shows on Easter Sunday to say the Catholic Church could do a better job of welcoming gays and lesbians, his remarks were hailed by one activist as an "Easter miracle" and by another as an encouraging "first step."
But two months later, it's still not clear what the second step in this fraught process might be, or even if there is a second step. And there are signs that things may only get more complicated.
Since Easter, three more states have passed same-sex marriage laws, and next month the U.S. Supreme Court will hand down a gay marriage ruling that will again spotlight the bishops' full-throated opposition to a whole host of civil protections for gays and lesbians, particularly marriage.
Moreover, as Americans — and American Catholics — grow increasingly accepting of homosexuality, and as foes of gay rights grow increasingly determined, conflict at the parish level seems inevitable. The uneasy "Don't Ask/Don't Tell" policy that once allowed gay and lesbian Catholics to take church positions is clashing with their increasing visibility in the form of marriage licenses or wedding announcements.