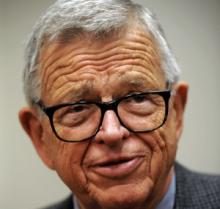 Prison Fellowship founder and former Nixon aide Chuck Colson was memorialized Wednesday (May 16) at Washington National Cathedral in a service steeped in Scripture and prayers about prison and redemption.
Colson, who died April 21 at the age of 80 after a brief illness, was known as Nixon's "hatchet man" and served seven months in prison on Watergate-related charges. But at the 90-minute service, he was recalled as a transformed "friend of sinners."
"Chuck was not perfect, but he was forgiven," said the Rev. Timothy George, the homilist and dean of Samford University's Beeson Divinity School.