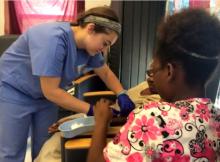 Judith Mesadieu has dreams of becoming a doctor, but her poor eyesight and partial blindness makes it hard to study.
A corneal transplant could fix the problem, but the procedure remains rare in Haiti, which has just six eye surgeons for every 1 million people, according to the International Council of Ophthalmology.
Fortunately, Mesadieu snagged a spot on the recent surgery docket of a U.S.-based eye surgery missions group called the iTeam.
The iTeam, based out of Kansas City, Mo., has been traveling to Saint Louis du Nord for about 16 years. They preform eye surgeries twice a year alongside local ophthalmologists, teaching them new skills and improvements.
Lydia Allen, 66, is a nonmedical staff member of iTeam and said the Bible calls on her to continue to go these trips and help in any way possible. 
"Go ye therefore into all the world," Allen said, quoting Jesus' Great Commission.