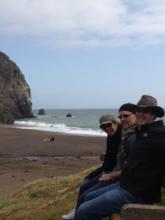 No great theological revelations today. No tear-jerking finale. No big mortal lesson. Just another step in a journey of a lifetime. ...
We've been in San Francisco the last couple of days, which is one of my favorite cities in the world. Driving here definitely hikes my blood pressure, but the sights, culture and food makes up for it.
Mostly we've continued to walk as much as possible. We've covered several miles every day, but my feet are evidence of the change of routine. Several blisters have emerged where there should just be calluses, and my plantar fasciitis decided to rejoin me in my heels after a brief, but welcome, sabbatical.