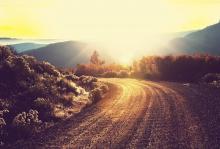 In the face of wars, refugee crises, weapon proliferation, and unaddressed climate change impacts, let us echo the common sense of children. Let goodness shine.
Or, as our young friends in Afghanistan have put it, #Enough! They write the word, in Dari, on the palms of their hands and show it to cameras, wanting to shout out their desire to abolish all wars.
This past summer, collaborating with Wisconsin activists, we decided to feature this refrain on signs and announcements for a 90-mile walk campaigning to end targeted drone assassinations abroad, and the similarly racist impunity granted to an increasingly militarized police force when they kill brown and black people within the U.S.