walk
In the face of wars, refugee crises, weapon proliferation, and unaddressed climate change impacts, let us echo the common sense of children. Let goodness shine.
Or, as our young friends in Afghanistan have put it, #Enough! They write the word, in Dari, on the palms of their hands and show it to cameras, wanting to shout out their desire to abolish all wars.
This past summer, collaborating with Wisconsin activists, we decided to feature this refrain on signs and announcements for a 90-mile walk campaigning to end targeted drone assassinations abroad, and the similarly racist impunity granted to an increasingly militarized police force when they kill brown and black people within the U.S.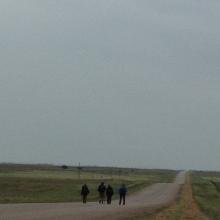 Five walkers have completed 380 miles of their three-month pilgrimage along the proposed route of the controversial Keystone XL pipeline. They have crossed from Monchy, Saskatchewan into the United States as part of the Compassionate Earth Walk and will continue their trek toward Steele City, Nebraska. In the flat unbroken prairies of Canada and the U.S. it is, as Dr. Seuss used to say, "opener out there, in the wide, open air."
The walk began at the Fourth Annual Tar Sands Healing Walk led by Canadian First Nations members to protest mining in ancestral lands, expansion of tar sands mining, and TransCanada's proposed system of pipelines, including the Keystone XL, which would cross into the United States. More than 500 people walked through the Ft. McMurray tar sands pits.
"Seeing the tar sands during the Healing Walk and being in a spiritual place with all those people wishing for healing, set a profound foundation for the Compassionate Earth Walk," said Lina Blount, a recent Bryn Mawr graduate.