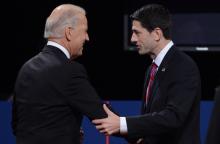 Catholicism's social justice teachings have often been called the church's "best-kept secret," and after the Oct. 11 vice-presidential debate between Joe Biden and Paul Ryan – the first such showdown between the first two Catholics to oppose each other on a national ticket – that may still be the case.
While moderator Martha Raddatz earned kudos for her performance, her only question about the candidates' shared Catholic faith came near the end of the 90-minute debate, and she framed it solely as a question of how their faith affects their policies on abortion rights.
That was seen as a victory for Catholic conservatives and Republicans who want to reinforce the image of the church as a "single-issue" religion – that issue being abortion – and a setback for liberal Democrats and others who have struggled to highlight the church's teachings on the common good as central to Catholicism's witness in the public square.
"What a lost opportunity!" wrote Michael O'Loughlin at the blog of America magazine, a national Jesuit weekly. "If the moderator planned to discuss faith, and I'm glad she did, why limit the discussion to one issue, however important, when the full spectrum of Catholic social teaching is ripe for an expansive and thought provoking conversation?"