victorias secret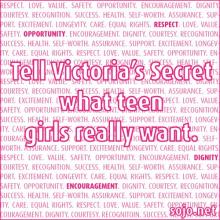 One might not expect a blog post from a minister and young father in Houston, Texas to spark widespread outcry over Victoria's Secret's spring break-themed ad campaign. But Rev. Evan Dolive's passionate defense of his young daughter's sense of self-worth went viral on social network sites, landed him on CNN, and wound up being used in high school classrooms in the U.S. and Canada, all in a matter of days. The point: the Victoria's Secret "Bright Young Things" campaign — depicting young women on Spring Break toto sell underwear with explicitly suggestive messages, with the accompanying verbalized sentiment that young teens dream of being like college girls (i.e., buying from the PINK line)— was objectifying, offensive, and obnoxious.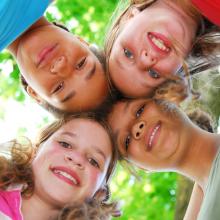 What has made this entire experience special is receiving emails from single dads telling me they are going to use the letter as a jumping off point to have a conversation with their teenage daughters. It's great when a father can express his feelings and concern to his daughter about the way advertisers are targeting a younger demographic. Receiving millions of hits is great, but empowering a father, giving a voice to a dad who is trying to raise children in the 21st century makes it all worth it.
Through all of this I have been shocked and humbled.
I have been amazed of the outpouring of support for people from all walks of life. Numerous people have contacted me and simply say "thank you for standing up for our children." One thing that I have learned through this is that we all have the ability to stand up for what we believe in. The problem that many people have expressed to me that they believed no one would listen.
We all have the potential to speak out for what we believe in and for what we want to stand for. While I might be one person, I sent a message; I spoke up for my daughter and every other young girl.
The power of the voice should not be underestimated even if you believe that you might be the only one speaking. Let us ban together to use our voice as a force of change and justice.