Vatican Curia
As part of Pope Francis' pastoral reforms, all 44 senior members of the Roman Curia, or governing body, must take turns hearing confession at a church near the Vatican.
There is even speculation that Francis himself could hear confessions at the Church of the Santo Spirito in Sassia, just outside the Vatican walls, where his bishops and cardinals have been directed to perform the sacrament of penance and reconciliation.
"I think it's likely the pope will discreetly hear confessions at some point," said Giacomo Galeazzi, a veteran Vatican watcher from Italy's La Stampa newspaper. "The pope has long been an advocate of the pastoral aspects of the ministry and now the Curia will as well."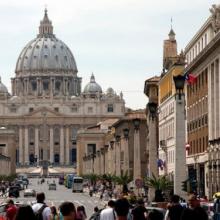 Pope Francis met for three hours with the heads of all Vatican departments on Tuesday, Sept. 10, signaling his desire to introduce more collaboration and transparency in the traditionally secretive and top-heavy governance style of the Catholic Church.
About 30 people attended, including the heads of the Vatican's eight congregations and 12 councils, as well as top officials from the church's tribunals and from the administration of Vatican state.
Cardinal Tarcisio Bertone, the Vatican's outgoing secretary of state, also participated, in one of his last official engagements before his successor, Archbishop Pietro Parolin, takes over on Oct. 15.