vanity fair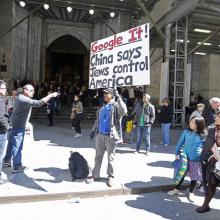 A report released on Oct. 19 by the Anti-Defamation League does not directly indict Trump for this upswing in anti-Semitism. But it explicitly connects some of his supporters to the hate speech.
"The spike in hate we've seen online this election season is extremely troubling and unlike anything we have seen in modern politics," said ADL CEO Jonathan Greenblatt.
WASHINGTON — Most Americans do not believe Scientology is a real religion, according to a recent poll by 60 Minutes and Vanity Fair.
The survey, conducted by CBS News, found that 70 percent of Americans say that Scientology is not a true religion; 13 percent believe it is; and 18 percent either don't know or don't care.
Out of the more than 1,000 people polled, Christian Americans were even more likely to question Scientology's status as a religion — 79 percent of evangelicals, 74 percent of Protestants and 72 percent of Catholics surveyed responded that they did not think Scientology is a religion.
L. Ron Hubbard, a science fiction author, established Scientology in 1952, and the Church of Scientology has been acknowledged as a religion in the United States since 1993. Scientology is known for its celebrity followers, such as actors Tom Cruise and John Travolta.