U.S. Jews
Hoping for divine intervention – or Jewish votes – Donald Trump wrote a short prayer to be inserted in between the stones of the Western Wall.
Trump's team photographed and sent a copy of the handwritten prayer to Ynet News and Yedioth Ahronoth, Israeli sister publications. The original was handed to David Faiman, a Trump advisor, who was heading to Israel, the news outlets reported.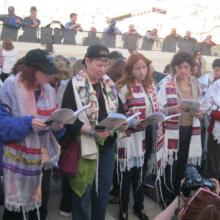 Where once it seemed that uncritical devotion to Israel was the norm for U.S Jews, that Zionism and Judaism were hand-in-glove, new research finds that's not the case today — if it ever was.
The Pew Research Center's newly released, comprehensive Portrait of Jewish Americans not only delved into myriad ways people identify as Jews, it also probed their emotional connection and their theological and political ideas about the Jewish state.