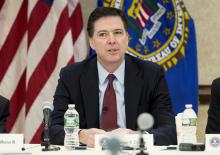 The director of the FBI stepped in it.
Or did he?
Last week, James B. Comey delivered a speech at the U.S. Holocaust Memorial Museum in which he said the murderers and accomplices of Germany, Poland, and Hungary "convinced themselves it was the right thing to do, the thing they had to do. That's what people do. And that should truly frighten us."
The Polish government was not happy. President Bronislaw Komorowski castigated Comey for his "ignorance, lack of historical knowledge, and possibly large personal aversion" toward Poles. And, as a gesture of goodwill, Comey has apologized.
Let's be clear here. Comey was not accusing the nation of Poland of being complicit in the Holocaust. For all intents and purposes Poland as a nation temporarily ceased to exist during World War II.
But Poles, Hungarians, Germans, Lithuanians, Ukrainians, Croats, Estonians, Dutch, Latvians — who can deny that so many of them were willing conspirators with the Nazis in the roundup of Jews and the wholesale destruction of European Jewish life?
Here is how Komorowski could have responded:
"Poland suffered terribly during World War II. We were invaded by both the Soviet Union and Germany. The Nazis intended to turn our people into a permanent underclass of slaves. If you have read William Styron's book Sophie's Choice, or if you have seen the movie, then you know that the Nazis kidnapped Polish children and raised them as their own. Auschwitz was a killing field for the Poles, no less than for the Jews.