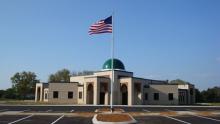 For years, opponents of the Islamic Center of Murfreesboro vowed to take their legal fight to shut down the mosque all the way to the U.S. Supreme Court.
That fight ended Monday, when the nation's highest court declined to hear their case.
The four-year conflict over construction of the mosque, which opened in 2012, brought national attention to this Bible Belt city of 112,000 about 30 miles south of Nashville.
Hundreds marched in protest after Rutherford County officials approved plans for the mosque in 2010. Televangelist Pat Robertson labeled the Islamic center a "mega mosque" and claimed Muslims were taking over Murfreesboro. An arsonist set fire to construction equipment on the building site.
Mosque opponents eventually filed a suit against Rutherford County, seeking to block construction of the worship space.