University of Connecticut
Just because interfaith, interracial, and varied ethnic groups share a common cause doesn't mean a diverse coalition can hang together.
It often takes prayer. And not just a "Bless this group, Amen," invocation.
A new study by three sociologists finds that three out of four interfaith civic coalitions turn to what the sociologists have dubbed "bridging prayer" — interactive, participatory, and often innovative prayers and rituals that highlight their shared identity as people of faith.
"Shared issues alone don't necessarily ensure cooperation," said Ruth Braunstein, assistant professor of sociology at the University of Connecticut. "But groups that cannot build a shared culture could find it very difficult to succeed."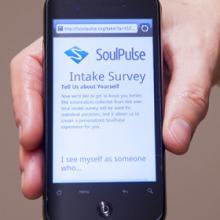 Folks who have just knocked back two drinks say they're really aware of God at that moment.
And good sleep enhances a sense of God, joy, peace, and love.
Who knew?
Actually, about 160 people, so far, know such details about their spiritual lives. They were the first participants in SoulPulse, a newly launched, ongoing study of spirituality in daily life.
It's an "experiential" research survey inspired by pastor/author John Ortberg and conducted by a team led by Bradley Wright, an associate professor of sociology at the University of Connecticut and author of Christians Are Hate-Filled Hypocrites … and Other Lies You've Been Told.
Twice a day for two weeks, participants receive questions asking about their experiences of spirituality, their emotions, activities, and more at the moment the text messages arrive.