turbans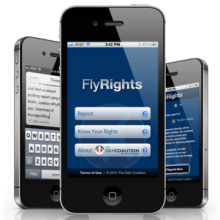 The Sikh Coalition is updating a mobile app that allows travelers to report complaints about the Transportation Security Administration from the airport.
The coalition created the FlyRights app in April 2012 because of concerns that TSA officers profiled travelers for their appearance — and Sikhs in particular because of their turbans.
The TSA insists it doesn't profile travelers. Civil rights complaints are investigated and "immediate action" is taken if substantiated, the agency said.
The original FlyRights app, created in coordination with the TSA, allowed a traveler to submit a complaint at the same time to the coalition and to the TSA for investigation.
Law enforcement authorities don't know why suspected gunman Wade Michael Page burst into a Sikh temple in Oak Creek, Wis., on Sunday and opened fire, killing six before he was shot dead by the police.
But many American Sikhs say they do know this: Their community has been targeted by a growing number of hate crimes since the 9/11 terrorist attacks. The New York-based Sikh Coalition reports more than 700 such incidents since 2001. The question is: Why?
"The turban is the main issue here," said Pashaura Singh, a professor of Sikh and Punjabi studies at the University of California-Riverside. "People confuse Sikhs with Osama bin Laden."
Following 9/11, bin Laden and his al-Qaida associates were often shown in media reports wearing white turbans. Combine that with a lack of basic knowledge about the estimated 500,000 Sikhs living in the U.S. and you get tragic — and sometimes violent — cases of mistaken identity.