TSA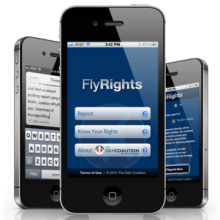 The Sikh Coalition is updating a mobile app that allows travelers to report complaints about the Transportation Security Administration from the airport.
The coalition created the FlyRights app in April 2012 because of concerns that TSA officers profiled travelers for their appearance — and Sikhs in particular because of their turbans.
The TSA insists it doesn't profile travelers. Civil rights complaints are investigated and "immediate action" is taken if substantiated, the agency said.
The original FlyRights app, created in coordination with the TSA, allowed a traveler to submit a complaint at the same time to the coalition and to the TSA for investigation.
Sikh civil rights activists will unveil a mobile phone application next week (April 30) that they say will allow travelers who believe they have been profiled by airport screeners to file complaints directly from their cell phones.
The New York-based Sikh Coalition launched the app project after a steady increase of complaints about unfair treatment at U.S. airports. Sikh men do not cut their hair as an article of faith, and their turbans have been met with suspicion by some Transportation Security Administration personnel.
The group emphasized that that the "FlyRights" app is meant to help Sikhs and other religious and racial minorities who have been subject to profiling, such as Muslims, South Asians, Arabs, blacks, and Latinos.