tree of knowledge of good and evil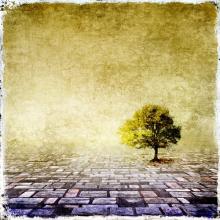 When people talk about the fall of humanity in the Jewish Genesis story, we never talk much about the Tree of Life. The Tree of the Knowledge of Good and Evil gets all the headlines and sermons because that's the one that's supposed to define us. That's what we see, when we look around at humanity: The Fall, and a lot of evil triumphing over good.
Martin Luther, the father of Protestant churches, "was once asked what God was doing before the creation of the world," according to German Lutheran theologian Dietrich Bonhoeffer. "His answer was that he was cutting canes for people who ask such useless questions."
Who says you can't offer a doctrine of abundant grace with a bit of sarcastic wit? For Bonhoeffer, this was really a question of why. Why did God create? What was going on, such that God decided to make a world? As Bonhoeffer saw it, this is a question rooted in guilt, shame, and fear. It's really asking: What did God want of the world? What did God make me for? Am I living up to it? Am I accepted? It's a question falling from the Tree of the Knowledge of Good and Evil, not the Tree of Life.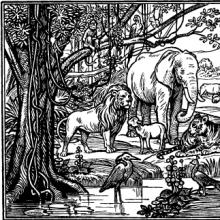 On the first Monday of September, America honors working stiffs by taking a paid day off. But does Labor Day celebrate an enterprise that God intended to be a punishment?
In a recent New York Times essay on the frenetic hustle of modern life, humorist and author Tim Kreider took the Puritans and their infamous work ethic to task. They had turned toil into a virtue, he argued, whereas God had invented it to chastise the disobedient Adam and Eve.
In an interview, Kreider explained that he was referring to Genesis, in which God tells Adam "by the sweat of thy brow shalt thou eat thy bread." In the same chapter, the serpent is sentenced to an eternity of belly slithering and Eve condemned to severe childbearing pains.
"Coming as it does on the heels of the infamous Illicit Fruit Incident, the details of which there's no need to re-hash, certainly makes it sound punitive," said Kreider, who said he's a veteran of 18 years of Sunday school, but no Bible scholar.