treason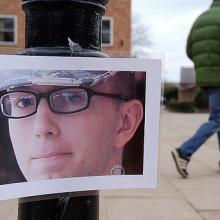 A military judge ruled Tuesday that Pfc. Bradley Manning was not guilty of aiding the enemy. In 2010, he was arrested for allegedly passing classified materials to the website WikiLeaks. If Manning had been found guilty of aiding the enemy, he could have been sentenced to life in prison. The sentencing phase of the trial will begin Wednesday.
The New York Times reports:
Private Manning had already confessed to being WikiLeaks' source for a huge cache of government documents, which included videos of airstrikes in which civilians were killed, hundreds of thousands of front-line incident reports from the Afghanistan and Iraq wars, dossiers on men being held without trial at the Guantánamo Bay prison, and about 250,000 diplomatic cables.

But while Private Manning had pleaded guilty to a lesser version of the charges he was facing, which could expose him to up to 20 years in prison, the government decided to press forward with a trial on a more serious version of the charges, including "aiding the enemy" and violations of the Espionage Act, which could result in a life sentence.
According to Gil Bailie's groundbreaking book Violence Unveiled, the word myth stems from the Greek wordmu. Those two Greek letters combine to form the powerful concept behind all myths. Mu means "to close" or "to keep secret." Bailie claims that "Myth closes its eyes to certain events and closes its mouth." Myths are the lies and the cover-ups that we tell about our own violence. Truth, on the other hand, works against myth to reveal our violence.
Ancient cultures told their myths, of course. Unfortunately, we moderns, who think we've progressed so much since our ancestors, tell our own myths. The United States government's military trial of Pfc. Bradley Manning is a case in point.
Manning's Leak to WikiLeaks
In 2010, Manning was arrested and accused of the worst military crimes, including espionage and aiding the enemy. He secretly released an extensive archive of classified documents to WikiLeaks. Some believe Manning is a traitor, while others believe he is a heroic whistleblower. As the New York Times reports, "There is no doubt that he did most of what he is accused of doing, and the crucial issue is how those actions should be understood."