trash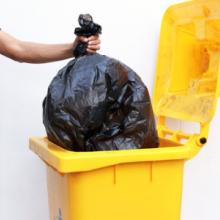 I went to the town dump today, and I found it open, functioning, filled with people doing the right thing in the right way, giving useful advice to a novice, and able to drive in and out without mayhem, all under the watchful eye of a single employee.
Its no-nonsense efficiency reminded me of church suppers, where everything seems to work because people are helping, not managing. Imagine Congress being that capable.
I suppose we should be thankful that Congress scampered out of town for five weeks. If they're going to do nothing, at least they should do nothing out where the constituents who elected them can take their measure.
I suppose we should also be thankful that July 2014 only had 31 days. Imagine a longer month for suicidal conflicts and epidemics.
We should be thankful, too, that the world's three great religions — wealth, technology, and the Abrahamic faiths — are getting on people's nerves. Irritation might lead us to expect better.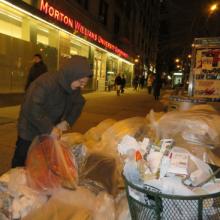 As a musician barely scraping by, Gio Andollo looks to trash bins as a way of life.
On a recent outing, he carefully untied bags outside a supermarket next to Columbia University. He likes this market because it uses clear plastic bags, making it easier to spot bread, fruits, vegetables, and other treasures.
"We can use our instincts about these things and usually they're OK," he said. "You can always clean it well and cook it. You can make sure you'll at least survive."