traffic violation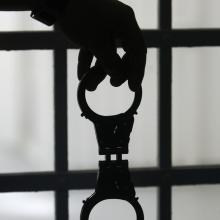 A 28-year-old black woman driving from Naperville, Ill., to Prairie View, Texas, for a job interview ended up dead in jail, ABC7 reports.
Sandra Bland was pulled over in Waller County, Texas, for failing to signal while changing lanes. Video footage from the scene of the arrest shows two police officers restraining her on the ground, then taking her into custody. Three days later she was found dead in her jail cell. Police say her death appears to be self-inflicted.
According to ABC7:
In a press release from the sheriff's department, authorities say they applied CPR, but Bland was pronounced dead shortly after she was found.

"I do not have any information that would make me think it was anything other than just a suicide," says Waller County District Attorney Elton Mathis.

Bland's friends disagree.

...Longtime friend LaNitra Dean tells the I-Team that Bland "was a warm, affectionate, outspoken woman" who spoke out about police brutality often on her Facebook page and was critical of injustice against African Americans.

..."The Waller County Jail is trying to rule her death a suicide and Sandy would not have taken her own life," Dean said. "Sandy was strong. Strong mentally and spiritually."
Texas State Rangers are now handling the investigation. Read the full story here.
In November 2009, Bernard Pastor, an 18-year-old undocumented student in Ohio, was stopped by police for a minor traffic violation and detained. ICE held Pastor in federal detention with plans to deport him to his native Guatemala, though his parents had left Guatemala with Pastor when he was 3 years old.