tornadoes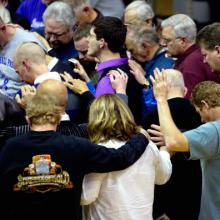 To understand American politics, follow the money. But to understand American goodness and resolve, follow the storms.
Watch towns rally to save children and to provide emergency shelter. Watch people share water and food with strangers. Watch people share chain saws and rowboats. Watch religious communities collect offerings of money and supplies.
Watch people stop work in order to pile sandbags along cresting rivers. Watch hard-hit towns discover their core oneness. All those fears of the dreaded "other" that politicians try to whip up seem to evaporate when storms hit.
When our host led prayers for the victims of the tornadoes, no one asked if they were "our kind of people." They were victims, and that's all we needed to know. While politicians raged across the landscape shouting invectives, rekindling old grudges, stirring pots of fear and distrust, and seeking votes in hardship, actual victims of hardship were joining hands to serve the least of these.