Tom Lantos Human Rights Commission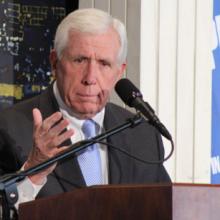 Rep. Frank Wolf, one of the loudest and most persistent voices in Congress for the right of people around the globe to practice their religions freely, will not seek an 18th term.
"As a follower of Jesus, I am called to work for justice and reconciliation, and to be an advocate for those who cannot speak for themselves," Wolf, a Presbyterian, said in a statement Tuesday.
The Republican from Northern Virginia, who will turn 75 in January, said he will work on human rights, religious freedom, and other social issues in his retirement.
Religious freedom activists scolded the U.S. State Department for not appearing at a hearing Friday on Iran's treatment of religious minorities, and called for greater government action to secure the release of people imprisoned there for their faith.
"The State Department is AWOL — they are absent without leave," complained Jay Sekulow, chief counsel of the American Center for Law and Justice, a conservative law firm that represents the wife of Saeed Abedini, an Iranian-American minister in Tehran's Evin prison. "They act as if they are embarrassed about Mr. Abedini's faith."