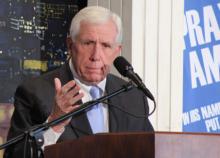 Rep. Frank Wolf, one of the loudest and most persistent voices in Congress for the right of people around the globe to practice their religions freely, will not seek an 18th term.
"As a follower of Jesus, I am called to work for justice and reconciliation, and to be an advocate for those who cannot speak for themselves," Wolf, a Presbyterian, said in a statement Tuesday.
The Republican from Northern Virginia, who will turn 75 in January, said he will work on human rights, religious freedom, and other social issues in his retirement.