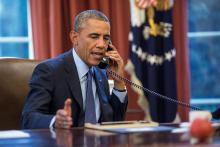 Once the first person in America died from Ebola, the usual bigots and ideologues blamed it on President Obama, whom they loathe. Some suggested Obama deliberately allowed the virus into the U.S. for nefarious purposes.
"He wants us to be just like everybody else, and if Africa is suffering from Ebola, we ought to join the group and be suffering from it, too. That's his attitude," said Phyllis Schlafly, the matriarch of America's religious right.
Every misstep will be laid at the president's doorstep, as if he personally ordered a Dallas hospital to screw up.
Such nonsense plays well in an election year, at least with a certain portion of the electorate. But the question remains: How are we as a society to deal with a potential contagion that could impact our lives?
Our worst instincts, as always, will be to blame whatever we don't like, to imagine barriers and travel bans that would protect us, and to turn against each other. Schlafly, for one, blames Obama personally for  "letting these diseased people into this country to infect our own people."