tipping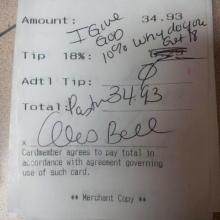 There are two personality flaws that I consider to be more or less fatal: being cheap and being unkind to the wait staff.
By "cheap," I don't mean frugal. I'm talking about the kind of economic stinginess that goes far beyond being a good steward of your budget and resources. Cheap is miserly, selfish, and, I believe, based in fear. And nothing good is wrought when fear is your motivation.
Another word to describe this kind of cheap is more commonly employed in British English than in our own American lexicon: "mean." Meanness connotes the habit of being ungenerous and petty.
This meanness is what the first fatal flaw and the second have in common. If you are rude, condescending, or just plain nasty to your server in a restaurant, it is, in the immortal words of Liz Lemon who crossed over last week into the eternity of syndication, a deal breaker.
The only thing worse than being cheap and nasty to the wait staff is invoking your religious beliefs to justify your actions. And that is, sadly, precisely what one pastor did when she attempted to stiff her waitress after church one recent Sunday night at a Missouri Applebee's.
On Jan. 25, Alois Bell, pastor of the tiny Word Deliverance Ministries church in St. Louis, headed to the local Applebee's with nine of her congregants – four other adults and five children – for a post-worship dinner. When the unidentified server returned with the bill for $39.43 at the end of the meal, Bell crossed out the automatic 18 percent gratuity (added to parties of six or more), wrote in the tip amount of "0" and the following handwritten message: "I give God 10%, why do you get 18?" Then she signed the credit card receipt "Pastor Alois Bell."