Timisela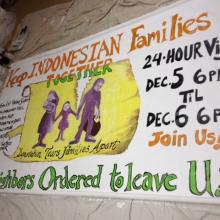 The Rev. Seth Kaper-Dale, a New Jersey pastor who granted sanctuary to an Indonesian immigrant, is scheduled to meet with a U.S. Immigration and Customs Enforcement public advocate on March 20.
But Kaper-Dale said he remains skeptical given the wording in the invitation.
"It's an invitation to talk, but [says] 'you're breaking the law,'" he said.
Saul Timisela—who fled to the U.S. to escape religious persecution 14 years ago—has now lived in the Reformed Church of Highland Park in Newark, NJ for two weeks, avoiding deportation.