thomas aquinas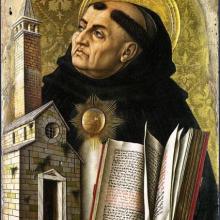 Early on the first Sunday of Advent, I logged in to Pandora and heard the familiar chant "Adoro Te Devote."
As a child, I knew Thomas Aquinas' beloved text as "Humbly I Adore Thee." At that time, faith meant standing with my family in the family church and singing such hymns with devotion.
The joining in song and prayer drew me closer to God. Or so I thought.
Later, as my life became more challenging and as I entered a world that seemed largely untouched by faith — a world where hatred, greed, violence and arrogance had free rein — I wondered if faith needed to be something more.
More rigorous, perhaps, deeper than a child's cozy feelings. Faith needed to embrace more than lingering echoes of days gone by. Faith needed to address today's cruelties and sadness. Faith needed to confront warfare, prejudice and unwarranted privilege.
"The person whose writings and actions inspired the Protestant Reformation was Martin Luther, Thomas Aquinas or John Wesley?" Less than half (46 percent) of Americans know the answer is Luther, and