thin moments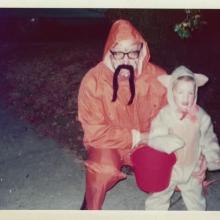 One of my most vivid childhood memories of Halloween 1977, the year my family moved to a new town in Connecticut right after the school year had begun. I don't recall what my costume was, but I do remember going door-to-door with my father, meeting new neighbors and collecting a heavy bag of candy, as the suburban warren of Cape Cods and manicured lawns morphed into an other-worldly fairyland.
I was 7 years old and the new kid on the block, so when the cover of darkness fell at sunset, I hadn't a clue where I was. As my father deftly navigated our way home in the crisp autumn night, it felt like he had performed a magic trick. When the morning came, I couldn't believe that our adventure the night before had been on these same streets. To my young imagination (and heart) it felt as if we had been walking through Narnia or Rivendell rather than a sleepy New England suburb.
A few years after that, my family stopped celebrating Halloween. We had become born-again Christians and our Southern Baptist church frowned on the practice. Halloween, I was taught, was an occult holiday (or maybe even Satanic!) and good Christians should have nothing to do with it.