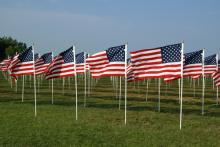 My children don't remember.
I mean, the younger children in my church don't remember. It was eleven years ago. The oldest of them was six when the towers were destroyed and we went to war. I'm wondering how I talk to them about it. I wonder how I tell them the story without subjecting them to the trauma so many people experienced that day.
So, no video footage. No point in giving the kids nightmares. I'm just going to talk about how many kinds of religions there are in the United States. No longer simply a liberal posture, it's an issue of national security, no? If we want to be at peace with our neighbors locally and globally, we need to understand them. We need to have something to work with, some kind of conecpt of how they live.