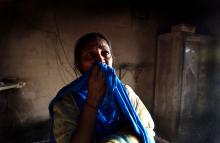 When the United States dropped atomic bombs on the Japanese cities of Hiroshima and Nagasaki in 1945, the world was ushered into a period of weapons paranoia. The Cold War, of course, was hallmarked by the obsessive weapons one-upmanship of the United States and the Soviet Union.
Who, then, would have thought that in the 21st century, the seeming weapon of choice would not be some sort of super-nuclear missile or an ultra-deadly biological toxin, but that it would, instead, be women?
"Women are being used as weapons of terror," Dr. Rubina Greenwood told an audience last week at a congressional briefing on the rights of minority women in Pakistan organized by the Hindu American Foundation.