Tax reform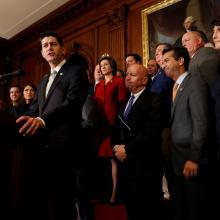 This week, the U.S. Senate is set to vote on the Republican tax bill, following the House vote on a similar bill earlier this month. The proposed plan in the Senate is very complicated and it is being rushed through the political process with little time to consider it and draw public attention to it. But this milestone bill will determine social outcomes for many years to come. Its passage will create a complete shift in the social safety net as we have known it, and it will signal a change that government will no longer care for the needs of the poor — the criteria that the biblical prophets demand of all those who rule.
The month of July stands as an important time for Congress as members of the House and Senate attempt to make decisions about six major U.S. issues. Some vital decisions that need to be agreed upon before next month's recess involve: immigration reform, student loan debates, budget planning, and fiscal issues. The Washington Post reports:
Significant debates await the House and Senate in the coming weeks over a new budget, a new farm bill, federally-subsidized student loans, several key Obama administration nominees and an overhaul of the nation's immigration laws, which remains the year's biggest political fight.
Read more here.