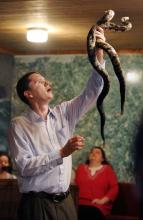 A Tennessee pastor's dangerous spiritual practices made him a star of a reality TV series.
Now they may make him a religious liberty crusader.
Officials from the Tennessee Wildlife Resources Agency raided the Tabernacle Church of God in LaFollete last Thursday and seized 53 venomous snakes — including timber rattlesnakes, copperheads, and several exotic breeds.
They cited the Rev. Andrew Hamblin, the church's pastor and co-star of the National Geographic series Snake Salvation, and plan to charge him with 53 count of violating a state ban on possessing venomous snakes at a court hearing on Friday. Each count carries a maximum sentence of one year in jail.