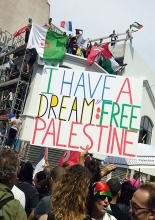 Amid mounting protests in Europe against the Gaza conflict, political and religious leaders in the region have sharply denounced anti-Semitism within their borders.
"Anti-Semitic rhetoric and hostility against Jews, attacks on people of Jewish belief and synagogues have no place in our societies," the foreign ministers of France, Germany, and Italy said in a statement Tuesday from Brussels.
Fears of escalating unrest are perhaps sharpest in France, home to Europe's largest populations of Jews and Muslims. Many have roots in North Africa, and violence in the Middle East resonates strongly here. Thousands defied a government ban against Paris-area protests over the weekend, staging pro-Palestinian rallies that degenerated into violence.