Suzanne Collins
I cannot start a fire. Often, this is the case even with a dry match in my hand.
As a person of relative privilege from the West living in an age of microwaves and igniter switches, this would not generally be a problem, aside from the embarrassment such ineptitude might cause. It would, however, be a problem if I were, say, stranded in the East Tennessee countryside and left to fend for myself against an alliance of desperate, vengeful college students.
Such is the conundrum I face this approaching weekend with my participation in Carson-Newman University's third annual Hunger Games.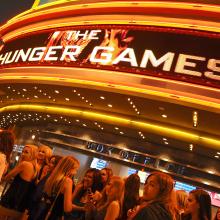 The Hunger Games books are wildly popular - and controversial. The American Library Association ranks it fifth on the list of most banned books for 2010, mostly because of parental complaints that the books are sexually explicit and violent.
Author Suzanne Collins said she conceived of The Hunger Games one night as she flipped television channels from teenagers on a reality TV to teenagers serving in the Iraqi war. She couldn't shake this jarring juxtaposition.
So does the popularity of The Hunger Games offer good news for those of us concerned about American civilization and the younger generation? I say yes, for a few reasons.