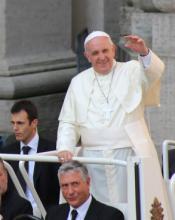 Pope Francis on Nov. 11 created a new Vatican body to deal with the most serious cases of child sexual abuse and to streamline complaints against the clergy.
The Vatican said the pope would nominate seven cardinals or bishops to consider appeals from clergy accused of abusing minors in a bid to speed up the judicial process of clergy who have received an initial assessment by local bishops.
The members of the panel, or "college," may come from the Congregation for the Doctrine of the Faith, which currently handles cases, or elsewhere in the church. Members will also be asked to deal with serious abuses of penance in the confessional.
The Vatican's chief spokesman, the Rev. Federico Lombardi, called the pope's proposal a "good solution" to help alleviate a backlog of cases.
Bishops accused of sexually abusing minors will still have their appeals handled by a session of CDF members at their monthly meetings.
"This is a good sign Francis is giving: He is basically saying that the CDF remains competent, and gives them an extra instrument to promptly deal with a specific type of appeals against decisions, namely recourses against administrative decrees," said Kurt Martens, a canon law expert at Catholic University in Washington.
The immediate changes were outlined in a papal rescript, or "Rescriptum," signed by the Vatican secretary of state, Cardinal Pietro Parolin, and printed in L'Osservatore Romano, the Vatican's official newspaper.
The pope has adopted a hard line on clerical sex abuse and at times asked for forgiveness while lambasting church leaders more than once for protecting abusers.