superhuman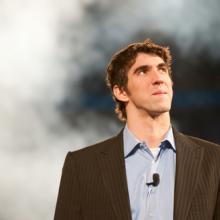 Michael Phelps was accomplishing things no one in recorded history has ever done before. I can't explain or really comprehend how he can do it. And although he did them, I attribute his physiology and gifts to God. So is what he does in the Olympics a miracle?
It almost seems that we worship him as if they were miraculous acts. We literally put him up on a pedestal and adore him, much like how people adored Jesus. And just like with Jesus, these amazing feats, whether or not they are literally miraculous acts, are simply not enough. The fall will inevitably come.
If they were, Jesus wouldn't have been abandoned at his most vulnerable moment. Some will argue that he saved the biggest and best for last, raising from the dead, which finally put all of his doubters in their place. Really? Then why are our numbers, at least in the Western World, in such precipitous decline?