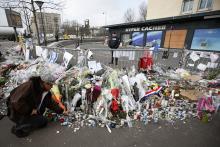 The number of violent anti-Semitic attacks around the world surged nearly 40 percent last year, according to a report released April 15 by researchers at Tel Aviv University in Israel.
The report found there were 766 recorded incidents against Jewish people in 2014 — the worst year for attacks since 2009. It was released ahead of Israel commemorating Holocaust Remembrance Day, which began April 15 at sundown.
The attacks were "perpetrated with or without weapons and by arson, vandalism, or direct threats against Jewish persons or institutions such as synagogues, community centers, schools, cemeteries, and monuments as well as private property," the authors of the report, based at the Kantor Center at Tel Aviv University, said.
In 2013, there were 554 registered incidents.